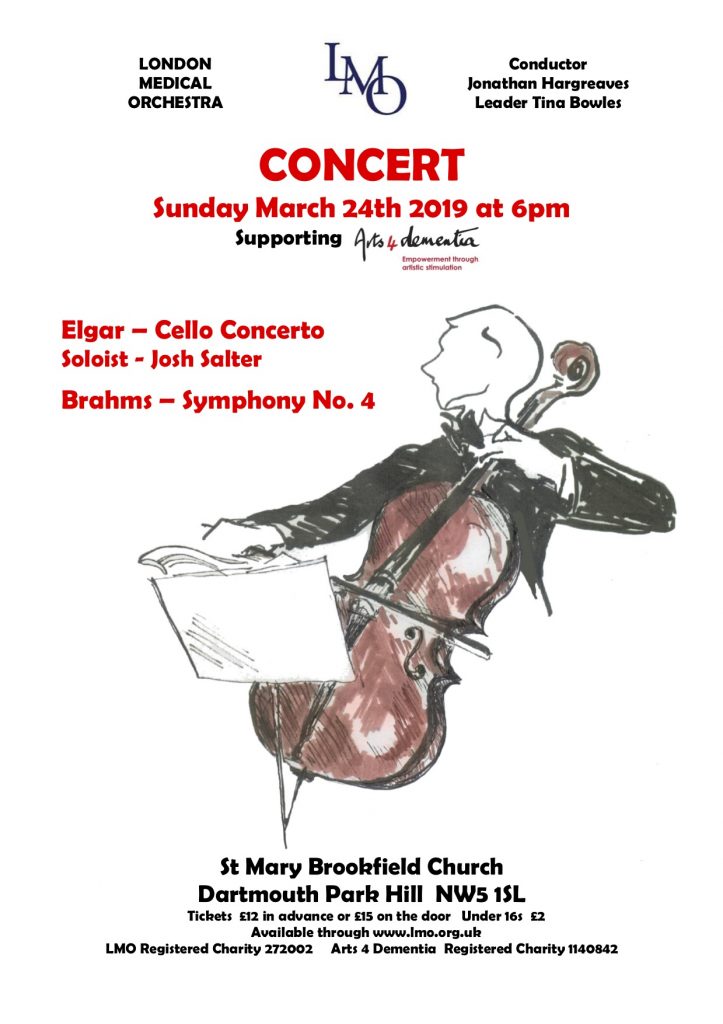 Conductor - Jonathan Hargeaves
Leader - Tina Bowles
Soloist - Josh Salter
In support of Arts4Dementia
www.arts4dementia.org.uk/
Registered charity No 1140842
---
The Concert Programme
Cello Concert in e minor - Edward Elgar - Soloist: Josh Salter
Interval.....
Symphony No 4 - Johannes Brahms
---
Programme Notes
Cello Concerto in e minor – Edward Elgar (1857 – 1934)
Elgar was an English composer whose music combines lyricism, grandeur and popular appeal. Remarkably, he was largely self-taught and most of his musical influences were not from England but from continental Europe. He achieved recognition with the Enigma Variations, first performed in June 1899, and his ceremonial music written in the following years has become part of the national heritage.
Appalled and disillusioned by the suffering of the First World War, Elgar ceased to compose, then in 1918 he poured his feelings into four works that rank among his finest. The last of these, the cello concerto, has been described as a personal lament for a lost world. It was first performed on 27th October 1919, in the Queen's Hall, London, conducted by Elgar himself. Sadly, it was not a success because of inadequate rehearsal and was not performed again in London for over a year.
Elgar subsequently made two recordings of the work, once claiming it to be "the best thing I ever wrote". He considered the main theme, initially introduced by the viola section then passed to the solo cello, to be his tune; "If you ever hear someone whistling this melody around the Malvern Hills, that will be me".
In recent years the Elgar cello concert has become a cornerstone of the solo cello repertoire. It came to prominence with performances by Jacqueline du Pre, who made the famous recording of the concerto in 1965 with the London Symphony Orchestra, conducted by John Barbirolli.
Symphony No 4 in e minor – Johannes Brahms (1833 – 1897)
Brahms was a german composer, pianist and conductor. His music is firmly routed in the structures and compositional techniques of the Classical masters, Mozart, Beethoven and others, while embedded within his meticulous structures are deeply romantic motifs. Brahms venerated Beethoven; to the extent that in the composer's home, a marble bust of Beethoven looked down on the spot where he composed. Brahms was a friend of Robert Schumann and worked with some of the leading performers of this time, including pianist Clara Schumann and violinist Joseph Joachim.
Brahms was already a mature composer when he began writing for orchestra; his first symphony was not published until 1876 and was followed with a series of orchestral works. His last symphony, the fourth, was premiered on October 25th 1885 in Meiningen, Germany, conducted by the composer himself.
The fourth symphony is rich in allusions, most notably to various Beethoven compositions, and may well have been inspired by the play Antony and Cleopatra, which Brahms had been researching at the time. It is the only one of Brahms' symphonies in a minor key. The first two movements are in sonata form. The third movement, the Allegro giacoso, is the only symphonic scherzo which Brahms ever wrote. The final movement, which includes trombones, their first use by Brahms, is based on a theme from a Bach cantata. It is in the form of a passacaglia (variations with a regular bass accompaniment) and ends with an energetic coda.
Programme notes compiled by Mary Dentschuk
---
The Concert Charity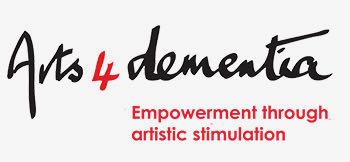 Arts engagement is the best medicine for dementia! Arts 4 Dementia offers challenging workshop programmes with arts organisations for people in the early stages of dementia and their carers. The A4D website provides the only national listing of arts events accessible for people living with dementia, enabling them to find stimulating opportunities nearby; and they train arts facilitators from all around the country in early stage dementia awareness. The almost 700 trained to date will deliver arts events to over 13,000 people with dementia and carers in the coming years. A4D focuses on what people can achieve, often very much more than they imagine.
Recent workshop programmes have included Ceramics at the Garden Museum, Poetry at the National Poetry Library (Southbank Centre), Ballet at the Royal Opera House (with the assistance of a dancer from the Royal Ballet) and Scriptwriting at the Royal Court Theatre. Typically, these are 8-10 week pilot programmes and many are then continued without the direct involvement of A4D. A4D is currently delivering a Textile Design programme with Rosetta Arts and the Newham Community Renewal Programme.
We never cease to be amazed by the creativity of our participants – who just happen to have dementia.
A4D is this year (2019) a Co-op local cause. If you shop there, please become a member and select us as your cause. A4D is a Registered Charity No 1140842
---
The Concert Performers
First violins

Tina Bowles (Leader)

Rachel Barbenel

Steve Dobson

Loren O'Dair

Mary Dentschuk

Gwyn Rhydderch

Rosie Marshall
Violas

Geoff Irwin (Principal)

Nigel Franklin

Tom Boswell

John Nicholls

Caryl Mayes

Stella Dilke

Sarah Parfitt
Cellos

Josh Salter (Principal)

Hilary Evans

Fiona Dunn

Helen Mabelis

Sue Bird

Hannah Franklin

Nicholas Singer
Double Basses

Francois Moreau

Darren Edwards
Flutes

Graeme Scott

Joanna Bosanquet
Oboes

Sumitra Lahiri

Adrian Hall
Clarinets

Lindsey Glen

Ian Merryweather
Bassoons

Ros Hedley-Miller

Louise Johnston
Horns

Susie Laker

Julie Rooke

Federico Espinosa

Simon Ashdown
Trumpets

Simon Morgan

Charlotte Webb
Trombones

Rob Heath

Richard Miller

Andrew Ross