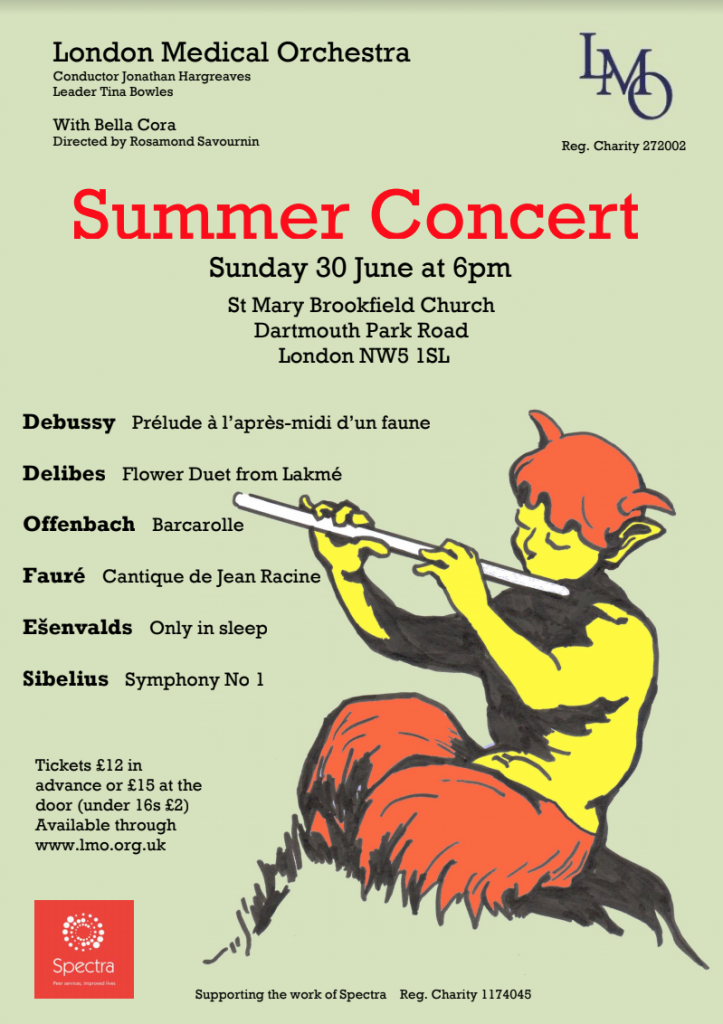 Conductor - Jonathan Hargreaves
Leader - Tina Bowles
With Bella Cora, directed by Rosamund Savournin
Supporting the work of Spectra http://www.spectra-london.org.uk Registered Charity No. 1174045
---
The Concert Programme
Prélude à l'après-midi d'un faune - Claude Debussy

Flower Duet from Lakmé - Leo Delibes

Barcarolle - Jacques Offenbach

Cantique de Jean Racine - Gabriel Fauré

Only in sleep - Eriks Ešenvalds
Interval.....
Symphony No 1 - Jean Sibelius
---
Programme Notes
Prélude à l'Après-midi d'un Faune – Claude Debussy (1862-1918)
Claude Debussy entered the Paris Conservatoire at the age of 12 and won the Prix de Rome when he was 22. He was the founder of the Impressionist School in music – whose members, like their pictorial counterparts, were concerned with colour and tone rather than the formal, narrative or dramatic. The Impressionist composers were also associated with the Symbolist poets, including Baudelaire, Verlaine and Mallarme.
Debussy's music frequently uses the whole-tone scale and an innovative harmonic structure, derived from overtones, which, together with its economic style, result in a distinctive, atmospheric sound. He wrote numerous compositions for the piano, which are regarded as among the finest works for the instrument, partly because he made use of its full range of sounds. He was also a brilliant orchestrator.
Debussy was a regular visitor to Mallarme's house and the tone poem Prélude à L'Après-midi d'un Faune, which was published in 1894, is an orchestral version of Mallarme's poem of that name.
Flower Duet from Lakmé – Leo Delibes (1836-1891)
Leo Delibes studied at the Paris Conservatoire and quickly achieved public recognition as a composer of operettas, operas and ballets, including Coppelia and Sylvia. His music is melodic and graceful – and was greatly admired by Tchaikovsky, who preferred it to that of Brahms and Wagner.
Lakme was first staged at the Opera-Comique in 1883, in a particularly lavish production. The plot reflects the then vogue for matters to do with the East and the music was influenced by Bizet. Lakme subsequently became the composer's best-known opera.
Barcarolle from The Tales of Hoffmann – Jacques Offenbach (1819-1880)
Jacques Offenbach was born in Cologne. He moved to Paris in 1833 and stayed there for the rest of his life. He was able to enter the Paris Conservatoire because, having heard him play, Cherubini overrode the regulations forbidding foreigners from enrolling.
Offenbach left the conservatoire in 1834, for financial reasons, and worked initially as a cellist. His reputation was established when his operas were included in the repertoire of the Theatre Bouffes-Parisiens during the Paris Exhibition of 1855.
Offenbach's operas were often satires of the classics and/or Second Empire politics and society and their exuberant style, and humour, appealed strongly to the French taste of the time (although his music was looked down upon by musicians who considered themselves to have more highbrow tastes). Following the premiere of Orpheus in the Underworld, which includes the famous cancan, in 1858, Offenbach became famous throughout Europe as well as in the USA, The Tales of Hoffman was Offenbach's last work. It was unfinished at his death and completed by Ernest Guiraud. It has become one of the most popular of all French operas.
Cantique de Jean Racine – Gabriel Fauré (1845 – 1924)
Fauré composed this piece at the age of 19 for a composition competition at the École Niedermeyer de Paris where he was studying, and it won him first prize. The French text is a hymn written by Jean Racine in 1688. Fauré's winning composition was scored for four vocal parts with piano or organ accompaniment. The Cantique was first performed on 4th August 1866 in a version with strings and organ, the organ played by Fauré himself.
Only in Sleep – Eriks Esenvalds (1977 – )
This song, by Latvian composer Ešenvalds, was written in 2010 for the University of Louisville Collegiate Chorale and Cardinal Singers. It uses words from a poem of the same name by American author Sara Teasdale (1884 – 1933) describing a lady's nostalgic memories of her childhood friends appearing in her dreams.
Symphony No 1 – Jean Sibelius (1865-1957)
Jean Sibelius studied in Helsinki, Berlin and Vienna. When he was 32, the Finnish State granted him an annual pension for life, to enable him to devote himself to composition (for the last 26 years of his life, however, he composed nothing at all).
The publication in 1835 of the Kalevala, an epic poem based on Finnish history and myth, had a strong influence not just on the Finnish literary world but inspired the patriotic character of all the arts, including music.
Sibelius's music reflects Finland's physical and natural features, including bleak landscapes, long,hard winters and short, brilliant summers. He wrote the first of his seven symphonies in 1898-1899. In February 1899, Tsar Nicholas II published what became known as the February Manifesto, which abrogated the political autonomy of Finland. This reinforced the strong national feeling which inspired practically all of Sibelius's work. In 1899, he also wrote what became his most famous piece, Finlandia (originally called Finland's Awakening). It was part of a set of pieces based on episodes in Finland's history but is now almost always performed on its own.
Sibelius revised his first symphony in 1900. It is romantic in character and has some echoes of Tchaikovsky. The first performance of the revised version, in Helsinki in July 1900, established Sibelius's international reputation.
---
The Concert Charity
Profits from the evening to Spectra
Spectra works to improve the choices, health and well-being of people, often from diverse and marginalised communities, including the LGBT communities. Empowering positive, informed choices about health, including sexual health, emotional resilience and wellbeing, and working to combat isolation, stigma and risk.
They provide supportive, knowledgeable, non-judgmental services which are all peer led, meaning they are delivered by people from the communities they work with themselves. They are proactive in identifying the needs of all their clients and supporting them.
Spectra aims for knowledgeable, aware and empowered individuals and communities who have clear, accurate, credible and non-judgemental wellbeing and health information and quality services that are relevant and accessible. http://www.spectra-london.org.uk Registered Charity No. 1174045

---
The Concert Performers
First violins

Tina Bowles (Leader)

Rachel Barbenel

Steve Dobson

Loren O'Dair

Mary Dentschuk

Gwyn Rhydderch

Rosie Marshall
Second violins

Catherine Sides

Conor Shepherd

Nicola Smith

Pearl Wiliams

Mary Moore

Gerry Shortall
Violas

Geoff Irwin (Principal)

Nigel Franklin

Tom Boswell

Dickie Clarembaux

John Nicholls

Caryl Mayes

Sarah Parfitt
Cellos

Josh Salter (Principal)

Hilary Evans

Fiona Dunn

Helen Mabelis

Hannah Franklin
Double Basses

Francois Moreau

Darren Edwards
Flutes

Graeme Scott

Joanna Bosanquet

Nim DiRicci
Oboes

Sumitra Lahiri

Adrian Hall

Min-Li Kong
Clarinets

Lindsey Glen

Ian Merryweather
Bassoons

Ros Hedley-Miller

Louise Johnston
Horns

Susie Laker

Julie Rooke

Iain Clarke

Federico Espinosa
Trumpets

Simon Morgan

Charlotte Webb

Mike Doherty
Trombones

Peter Gough

Rob Heath

Andrew Ross
Percussion

Sharon Moloney

Nim DiRicci