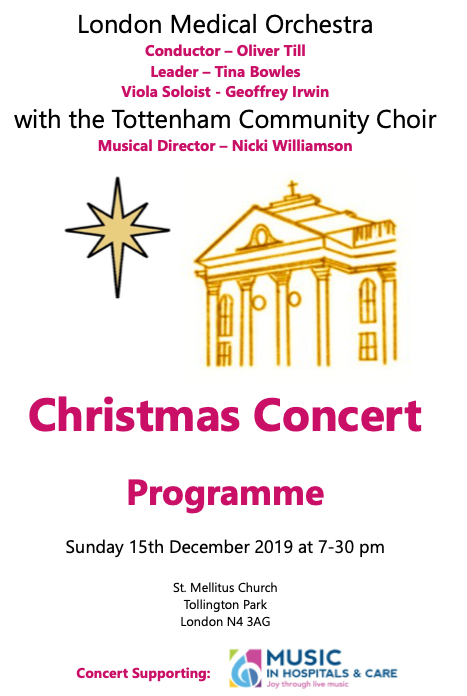 ---
The Concert Programme
Festive Overture - Dmitri Shostakovich

Deck the Halls - Traditional Carol, arranged by Tony Royse

Suite for Viola and Orchestra - Ralph Vaughan Williams - Soloist: Geoffrey Irwin

Group 1 - Prelude, Carol, Christmas Dance

Group 2 - Ballad, Moto Perpetuo

Group 3 - Musette, Polka Melancolique, Galop

I Saw Three Ships - Traditional Carol, arranged by Tony Royse
Interval....
The Twelve Days of Christmas - Traditional Carol, arranged by Tony Royse

Gloria in Excelsis Deo from 'Gloria' - Antonio Lucio Vivaldi

Keshet L'vana - Yosef Hadar

Let the River Run - Carly Simon

Silent Night - Franz Gruber, arranged by Tony Royse

Sabre Dance - Aram Khachaturian

God Rest Ye Merry Gentlemen - Traditional Carol, arranged by Tony Royse
---
Programme Notes
Festive Overture - Dmitri Shostakovich (1906 - 1975)
Shostakovich, a Russian composer and pianist, is widely regarded as one of the major composers of the 20th century. He used a variety of musical techniques and his music typically features sharp contrasts. The Festive Overture was written in 1947 as a celebratory piece to mark the 30th anniversary of the October Revolution, but was never performed as Shostakovich was denounced by the Soviet authorities and his music dubbed as 'anti-people'. Shostakovich revived it in 1954, after the death of Stalin, and it was performed to celebrate the 37th anniversary of the revolution in Moscow's Bolshoi Theatre on November 4th 1954, thus serving its original purpose.
Suite for Viola and Orchestra - Ralph Vaighan Williams (1872 - 1958)
An English composer, Vaughan Williams was strongly influenced by Tudor music and English folk song. He was among the first to travel into the countryside to collect folk songs and carols from singers, notating them for future generations. The suite has a varied colour and lightness, and consists of 8 pieces which are grouped into three movements. It was written for renowned violist Lionel Tertis (1876 - 1975), who gave the first performance at the Queens Hall in London in 1934. Subsequently the suite was little performed with its original orchestral accompaniment, until it was again brought to prominence at the last night of the proms in 2010.
Sabre Dance from Suite No. 1 for Orchestra - Aram Khachaturian (1903 - 1978)
Khachaturian was an Armenian composer and conductor, and is considered one of the leading Soviet composers. The Sabre Dance is a movement from the final act of Khachaturian's ballet Gayane, first performed in Yerevan in 1942, where the dancers display their skill with sabres. The lyrical middle section is believed to be based on an Armenian folk song. The Sabre Dance has become famous in its own right, popularised by pop artists and used in a wide range of films and figure skating performances.
Gloria in D (RV589) - Antonio Lucio Vivaldi (1678 - 1741)
Vivaldi composed this Gloria in Venice, probably in 1715, for the choir of the Ospedale della Pietà, an orphanage for girls. Vivaldi, a priest, music teacher and virtuoso violinist, composed many sacred works for the Ospedale, where he spent most of his career. This, his most famous choral piece, presents the traditional Gloria from the Latin Mass in twelve varied cantata-like sections. The Gloria lay undiscovered for two centuries after Vivaldi's death, until in the late 1920s it was found buried among a pile of forgotten Vivaldi manuscripts. It was not performed, however, until September 1939 in Siena in an edition y composer Alfredo Casella, containing what he described as an 'elaborazione'. It was not until 1957 that the now familiar original version was published and given its first performance at the First Festival of Baroque Choral Music at Brooklyn College NY. (Notes courtesy of Peter Carey, Royal Free Singers)
Keshet L'vana - Yosef Hadar (1926 - 2006)
The song Keshet L'vana - A White Rainbow, has been sung by choirs around the world since its release in 1996. It was written by Israeli composer, Yosef Hadar, who made a significant contribution to Israeli Folk Song in the fifties. It is popularly sung with English lyrics by Bruna Schweitzer, but tonight the choir will sing the original Hebrew words.
Let the River Run - Carly Simon (1945 - )
Simon wrote the song Let the River Run for the 1988 film Working Girl. She said the lyrics were inspired partly by the script and partly by the poems of influential poet and humanist Walt Whitman (1819 - 1892). She sought to write a hymn to New York, setting the lyrics and melody over a tribal drumming song. It begins with an image of a New York ferry crossing, and includes such phrases as 'Silver Cities Rise' and 'The New Jerusalem'. The song received numerous awards, and over time has grown to be an inspirational anthem. Simon performed the song in 2009 with her children to honour the lives lost in the desctruction of the Twin Towers, and it featured again at the worldwide Women's Protest March in 2017, the day after the inauguration of President Trump.
Programme notes compiled by Mary Dentschuk
---
The Concert Charity
Music in Hospitals and Care (MiHC)
www.mihc.org.uk
brings joy through music to a wide range of people, from newborn babies to centenarians, who are unable to access live music due to illness, disability, or loss of independence. Their live music sessions are specifically tailored to the needs of the individuals, and delivered by professional, experienced musicians, creating a bespoke experience through which everyone can access the joy, and many health benefits of live music. From bringing back long-lost memories, to soothing an anxious child, music has such a profound impact and can make a huge difference in every stage of life.
Registered Charity No. 1051659
---
The Concert Players
Conductor:
Oliver Till
First Violins
Tina Bowles (Leader)
Rachel Barbanel
Mary Dentschuk
Steve Dobson
Adrian Garfoot
Rosie Marshall
Gwyn Rhydderch
Raffaella Urbani
Second Violins
Nichola Blakey (Principal)
Holly Garvey
Mary Moore
Mary Ruddy
Conor Shepherd
Gerry Shortall
Catherine Sides
Jan Toporowski
Marianne Waite
Pearl White
Violas
Geoff Irwin (Principal)
Helen Sanders-Hewitt (principal in Vaughan Williams)
Tom Boswell
Dickie Clarembaux
Stella Dilke
Nigel Franklin
Caryl Mayes
John Nicholls
Sarah Parfitt
Cellos
Josh Salter (Principal)
Sue Bird
Hilary Evans
Hannah Franklin
Helen Mabelis
Nicholas Singer
Andrew Williams
Double Basses
Darren Edwards
Francois Moreau
Flutes
Graeme Scott
Joanna Bosanquet
Piccolo
Oboes
Sumitra Lahiri
Adrian Hall
Clarinets
Lindsey Glen
Ian Merryweather
Rita Porzi
Alto Saxophone
Bassoons
Rosalind Hedley-Miller
Louise Johnston
French Horns
Susie Laker
Cendrine Lambert
Julie Rooke
Susanna Stephenson
Trumpets
Mike Dockerty
Simon Morgan
Charlotte Webb
Trombones
Peter Gough
Rob Heath
Lukas Schmidt
Tuba
Celeste
Harp
Timpani
Percussion
David Coronel
Nim Di Ricci
SHaron Maloney