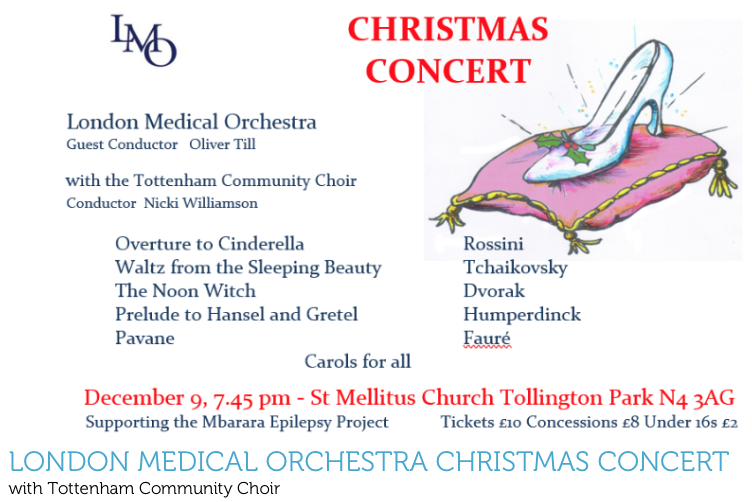 Guest Conductor: Oliver Till
Leader: Tina Bowles

In association with the Tottenham Community Choir - Conductor Nicki Williamson
Supporting the Mbarara Epilepsy Project, Uganda
---
The Concert Programme
Prelude to Hansel and Gretel - Engelbert Humperdinck

Good King Wenceslas - Traditional, arranged Tony Royse

The Noon Witch - Antonin Dvorák

Ding Dong Merrily on High - Traditional, arranged by Tony Royse
Interval.....
Walts from The Sleeping Beauty - Pyotr Ilyich Tchaikovsky

Pavane, Op 50 - Gabriel Fauré

The Dock of the Bay - Otis Reading/Steve Cropper

Overture to La Cenenerentola (Conderella) - Gioachino Rossini

O Come all Ye Faithful - Traditional, arranged by Tony Royse
---
Programme Notes
Prelude to Hansel and Gretel - Englebert Humperdinck (1854 - 1921)
Humperdinck, a German composer, was best known for his opera based on the fairy story by the brothers Grimm about two children lost in the wood. It began as a set of songs for the composer's sister before he expanded it into a full-scale opera, first performed in 1893. It has been a great favourite ever since, particularly The Evening Prayer, the French Horn chorale which opens the prelude.
The Noon Witch - Antonin Dvorák (1841 - 1904)
This symphonic poem was written by Dvorák in 1896 after his return to his native Bohemia. He found insporation in nationalist themes and this was one of a collection of musical settings to poems by Czech folklorist and poet Karel Jaromir Erben (1811 - 1870). The Noon Witch (Czech: Polednice) is the demon, Lady Midday, of Slavic mythology.

A mother is trying to prepare lunch, but her child is screaming for attention. She gives him some toys to play with, but nothing helps. So the mother decides to scare the child with a story about the Noon Witch who is said to come after children if they are naughty. At that moment, the church bell rings out, announcing that it is twelve o'clock - and there in the doorway stands the Noon Witch herself. She hobbles across the parlour, her arms reaching out for the child. The mother grabs her child and then faints in shock. The father comes home and finds the mother lying on the floor, their child in her arms. He manages to revive the mother, but the child is dead.
Pavane Op 50 - Gabriel Fauré (1845 - 1924)
Fauré was one of the foremost French composers of his generation. The beautiful Pavane, written in 1887, is one of his best-known works.

A pavane is a slow stately dance from the Spanish court. Fauré originally wrote this as a piano piece, then later, when engaged in Paris social life, he produced an orchestral version which he dedicated to his patron, Elisabeth, Countess Greffulhe. At her recommendation, an invisible chorus was added with lyrics contributed by her cousin, Robert de Montesquiou. They went on to produce a version with both dancers and chorus, and subsequently a ballet version, which was added to the repertoire of the Ballets Russes.

Waltz from The Sleeping Beauty - Pyotr Ilyich Tchaikovsky (1840 - 1893)
The Sleeping Beauty was Tchaikovsky's second ballet, first performed in 1890 in St Petersburg. The plot is based on a version of the fairy tale 'La Belle au bois dormant' by Charles Perrault. The ballet begins at the christening of the baby princess. Six fairies are invited, each bringing a gift for the baby. An evil fairy, Carabosse, arrives uninvited, giving the Princess a curse that on her 16th birthday she will prick her finger on a spindle and die. One good fairy has yet to give her gift, so converts the curse into a 100-year sleep.

The sleeping beauty waltz is performed by the villagers as the Princess arrives to celebrate her 16th birthday. In this version of the story the King and Queen survuve the 100-year sleep to celebrate the Princess's wedding to the Prince.

(Sittin' on) The Dock of the Bay - words and music by Otis Redding (1941 - 1967) and Steve Cropper (1941 - ); arrangement by Mac Huff
This song was co-written in 1967 by two Americans, soul singer Otis Redding and guitarist Steve Cropper. Redding started writing the lyrics in August 1967 while staying on a houseboat in Sausalito California, as he sat watching the ships come in and watching them roll away again. This arrangement by Mac Huff has been written as a cappella (a piece without instrumental accompaniment), for mixed choir.
Overture to La Cenerentola (Conderalla) - Gioachino Rossini (1792 - 1863)
Rossini, an Italian composer, wrote some 39 operas as well as sacred music, songs, chamber music, and piano pieces. The opera, La Cenerentola, was premiered in January 1817 after a frantic composition period of just three weeks. Rossini recycled an overture from his earlier opera La Gazetta, and this overture has become associated with the much more successful La Cenerentola. In this version of the fairy tale the wicked stepmother is replaced by a stepfather, Don Magnifico, the fairy godmother is replaced by Alidoro, a philosopher and tutor to the prince. The overture is full of littel surprises, as befits a comic opera.
---
The Concert Charity
The Mbarara Epilepsy Project, is based in South West Uganda. It is a cash-poor but highly focused medical project. For the past 6 years a group of unpaid volunteers working as part of the East London NHS Foundation Trust's commitment to international health development have been working alongside colleagues in Uganda on a pilot project aimed at community education about the illness and its potential impact and remedies (making use of 'village health workers' - volunteers trained in identifying a range of problems).
Epilepsy is particularly prevalent in Uganda, a result of birth injuries and cerebral malaria. Often children with epilepsy do not receive medical help due to stigma, and there is a scarcity of trained health personnel. The project has been hugely impactful in persuading communities that 'epilepsy can be treated' (as it says on posters and T-shirts that have been distributed), so that more children receive treatment that controls the condition, avoiding permanent brain damage.
Funds are needed urgently to maintain the supervision which encourages and supports local practitioners in their work, and to pay for the production of publication for the local volunteers, with the hope that once its efficacy has been shown over a wider area, the Ugandan government will extend the approach across other regions.
---
The Concert Players
Conductor: Oliver Till

First Violins
Tina Bowles (Leader)
Rachel Barbanel
Mary Dentschuk
Steve Dobson
Adrian Garfoot
Rosie Marshall
Gwyn Rhydderch
Raffaella Urbani
Second Violins
Nichola Blakey (Principal)
Ian Brookman
Louisa Burden
Holly Garvey
Mary Moore
Sarah Parfitt
Lucinda Platt
Mary Ruddy
Marianne Waite
Pearl Williams
Violas
Geoff Irwin (Principal)
Tom Boswell
Dickie Clarembaux
Stella Dilke
Nigel Franklin
Caryl Mayes
John Nicholls
Cellos
Josh Salter (Principal)
Sue Bird
Fiona Dunn
Hilary Evans
Hannah Franklin
Helen Mabelis
Double Basses
Darren Edwards
Francois Moreau
Flutes
Graeme Scott
Joanna Bosanquet
Piccolo
Oboes
Sumitra Lahiri
Adrian Hall
Clarinets
Lindsey Kaye
Sophie Goodwin
Bass Clarinet
Bassoons
Rosalind Hedley-Miller
Louise Johnston
French Horns
Federico Espinosa
Susie Laker
Sophie Prett
Julie Rooke
Trumpets
Mike Dockerty
Simon Morgan
Trombones
Rob Heath
Richard Miller
Isambard Wakefield
Tuba
Timpani
Percussion
John Holland
Sharon Moloney